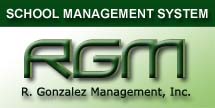 R. Gonzalez Management, Inc. (RGM) has been in operation servicing postsecondary institutions since January 1, 1980. We serve clients in 12 States and Puerto Rico. Our clientele represent undergraduate clock hour schools, credit hour non-term schools, credit hour term schools and post-graduate traditional term schools. Though one document can never fully convey how comprehensive and easy our system is to use, it can give you an idea of the many controls in student aid processing, general school administration, record keeping and reporting capabilities included in our services.
The RGM servicing system provides a complete set of transactions contained in databases that allow institutions to follow the student from the initial inquiry for enrollment through the process of enrollment, aid application, budgets, aid eligibility, awards made, aid disbursements (checks), tuition payments, accounts receivable (billing statement), aid funds to be paid, attendance, grades, FFELP/ Direct Loan history, leave of absence, terminations, enrollment status change, refund calculations (multiple calculations), forms tracking, default prevention, and placement. If you would like to know more, please visit the RGM WebSite.
SYSTEM MAINTENANCE
Please note that we have changed our established Weekly Maintenance Window for the RGM Web System to accommodate school schedules. This regularly scheduled maintenance is set for Sundays from 4:00 PM through 10:00 PM PST. The system may be unavailable during that time without notice. During this time you may be unable to successfully log on or be disconnected from the RGM Web System. Please plan on this disruption and avoid any critical operations during this window.